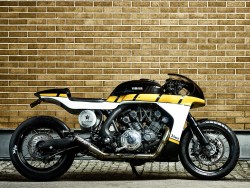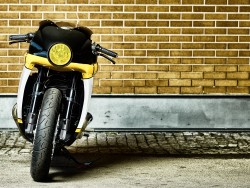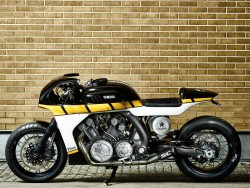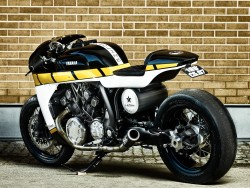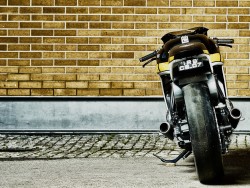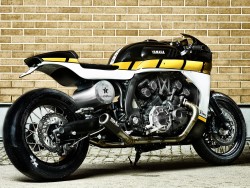 Portuguese duo, Alexandre and Osvaldo (top, left) have created this fully faired custom-built Yamaha VMAX, the CS_07 Gasoline. The rear wheel is shod with a drag racing-spec slick, which should tell you something about the bike...
Ever fancied having a
Yamaha VMAX
with a full fairing, wire-spoked wheels and a yellow headlamp. If you have, the it roCkS! duo from Portugal, Alexandre Santos and Osvaldo Coutinho, have built a bike just for you. The newest addition to Yamaha's Yard Built line-up, the new VMAX CS_07 Gasoline gets a handmade single-piece monocoque fuel tank and tail unit, with a full fairing bolted on for good measure. The bike rides on 18-inch wire-spoked wheels, with the rear hoop shod with a massive Mickey Thomson slick tyre. How is that useful/streetlegal, we don't know...
The stock VMAX exhaust has been replaced with handmade stainless steel 4-2 headers that connect to a custom-made free-flow SC Project exhaust system with carbon silencers. The stock tacho gets an aluminium housing and there are a lot of aftermarkets parts from the likes of Rizoma, LSL, K&N and Brembo. The high-quality leather seat is handmade and with
Yamaha's
60th anniversary colours, the VMAX Gasoline is all set to rock the ¼ mile drag run...