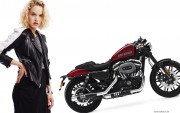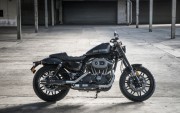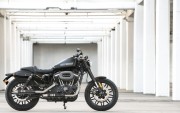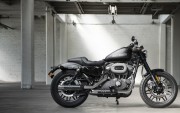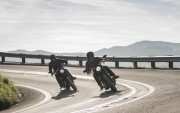 We like the new Harley Roadster XL 1200CX. Looks cool, should be a lot of fun to ride. Sometimes, that's enough
Harley-Davidson
have announced the launch of the 2016 Roadster XL1200CX. "Since its introduction in 1957, the Harley-Davidson Sportster has proved capable of constant reinvention, and the Roadster writes a new chapter in that story," says Harley's Director of Styling, Brad Richards. "We've watched our customers take the Sportster in so many different directions. The Roadster is a mash-up of styling genres, but the intent was to build a rider's motorcycle, a Sportster that's lean and powerful and connects the rider to the road," he adds.
According to Harley, the 2016 Roadster model joins the H-D Dark Custom lineup, with a minimalist design inspired by classic racing motorcycles, current trends in stripped-down naked custom bikes, and a profile reminiscent of racing Sportster motorcycles from the 1950s and 1960s. "We wanted to give the Roadster some DNA from the high-performance KHR models of the mid-50s, and later Sportsters tuned for the drag strip," says Richards. "Those bikes had fenders cut to the struts, a small fuel tank, and were stripped to their bare essentials to achieve a singular performance purpose," he adds.
The 2016
Harley-Davidson
Roadster is powered by an air-cooled, fuel-injected, 1200cc pushrod V-twin that pumps out 101Nm torque and delivers 20kpl in terms of fuel efficiency. The bike rides on 19-inch front and 18-inch rear cast-aluminium wheels. Twin preload-adjustable rear shocks and a 43mm USD front fork comprise the suspension, ABS is standard, the fuel tank takes 12.5 litres and the bike weighs 259 kilos with all fluids etc. Available colours include black, red and silver. Prices start at £9,695 / €15,835.
Read more »