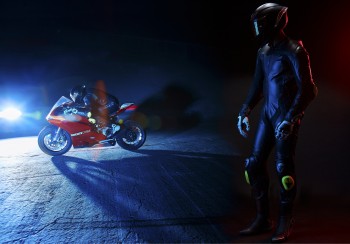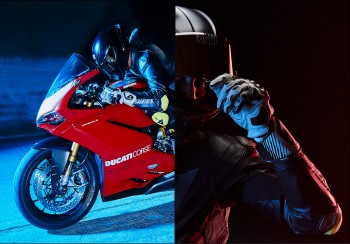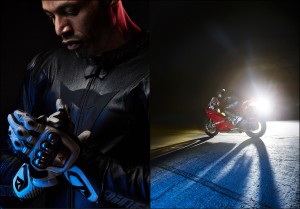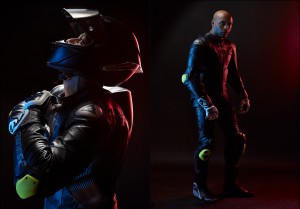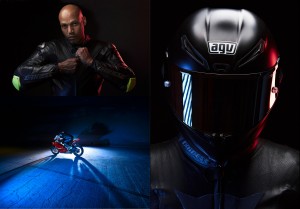 Stan Evans shot these photos in the winter of 2015. The portraits were shot in studio and action on location at the LA River. All the effects are practical and the only retouching done was to blend the layout for print
Remember Stan Evans, our favourite motographer? We've featured Stan's work earlier here on
Faster and Faster
(see
here
and
here
), and now the man's been at it again. This time, it's about shooting in the dark and the results, as you can see in the pics above, are pretty spectacular. Here's what Stan has to say about his latest photoshoot and his thoughts on various types of motorcycles:
On his latest photoshoot
Every once in while I feel the need to try something different with motorcycle photography. To be honest, I like pushing myself even though perfectly backlit sunset shots on sweeping roads will never lose their appeal. Nighttime always intrigues me because it brings a new set of rules. With lights, gels and exposure, I can control what people see. I can throw light where I want or fade it off into the darkness. It becomes the subtle difference between capturing a moment and creating one.
The movie Aliens had a profound effect on me as a child and I found myself studying James Cameron and HR Giger works to see how it affects perceptions. I like the idea of conceptualizing, and coming from an advertising background it's only natural to mix action and products in an effort to get people excited to ride. Motorcycle art is probably too strong of a word because I hate the notion of standing still. Motorcycles bring a sense of urgency. Straddling the thin line between life and death should make you feel the most alive!
On why he chose the Ducati Panigale for this shoot
Actually it wasn't the bike so much as the person I chose. I'm drawn to shooting interesting characters and I actually happened across
Adey Bennett
one day riding the Angeles Crest. My friend actually told me that he did all these superbike videos on the net I really had no clue who he was but you don't see many black guys over 6 feet tall on an Italian superbike. So I figured there a story there and asked him about shooting. Turns out we had some mutual friends and he was into trying something different.
Read more »