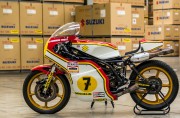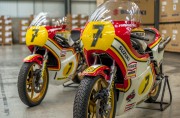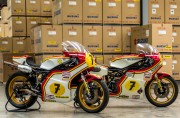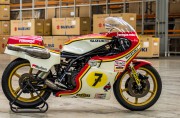 In July this year, there will be a rare opportunity to see Barry Sheene's 500cc championship-winning bikes from 1976 and 1977. Oliver's Mount is where the action will be, next month!
Forty years ago,
Barry Sheene
won the first of his two 500cc motorcycle grand prix roadracing world championships. For Barry, and British fans of motorcycle GP racing, 1976 and 1977 were the glory years - no other British rider has ever won the 500cc crown after Barry's last championship win in 1977. Now, as part of 40th anniversary celebrations of Sheene's first world title, his championship-winning racebikes will be displayed during the Barry Sheene festival at Oliver's Mount next month. The bikes have already arrived at Suzuki GB from Australia and are now being readied for display in July.
'With it being 40 years since Barry's first world title, this year's
Barry Sheene
festival marks a very special anniversary. The display of his two championship-winning bikes is the first time that they have been displayed together at such an event in the UK,' says Suzuki GB's Tim Davies. 'Suzuki's commitment to the Barry Sheene festival at Oliver's Mount is absolutely fantastic and for them to step it up again this year by displaying Barry Sheene's actual race winning machines is every roadracing fan's dream. This could be the only opportunity in our lifetime that we see these machines and we are very proud that Suzuki has chosen Oliver's Mount to display them,' added Scott Beaumont, Oliver's Mount's Marketing Director.
The Barry Sheene Festival will take place at Oliver's Mount on 23-24 July, 2016. For more information visit
Oliver's Mount
Read more »