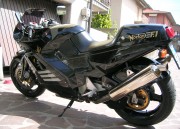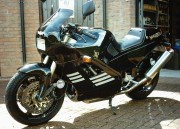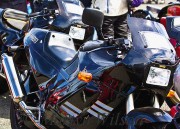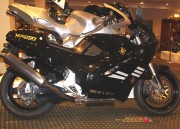 Richard Seymour (top, left) and Dick Powell were the men who designed the rotary-engined Norton F1. Here, in this exclusive interview, Dick recounts the story and tells us how the F1 went from the drawing board to production reality...
Back in the late-1980s / early-1990s, the rotary-engined Norton F1 was pretty much the most exotic superbike in the world. Yes, there were others, like the Honda
RC30
, Yamaha
OW01
and the Bimota YB4, but none of those machines had what the Norton F1 had - a 588cc liquid-cooled twin-rotor rotary engine that revved like crazy, producing a frenzied 85bhp and pushing the bike to a top speed of 225kph. The F1's successor, the F1 Sport was even more powerful and racing versions of the bike notched up many race wins, including a particularly memorable win at the 1992 Isle of Man TT. With its Spondon-designed aluminium twin-spar chassis, PVM wheels, Brembo brakes and adjustable WP suspension, the Norton F1 definitely wasn't messing around - it meant business.
We've always been big fans of the
Norton F1
. Apart from its rotary engine, we also love its styling - the F1's fully-enclosed fairing and its iconic black, gray and gold 'John Player Special' paintjob make it stand out from from other 1980s/1990s machines. The bike was designed by British designers, Richard Seymour and Dick Powell of seymourpowell, a London-based industrial design outfit that was set up in 1984. We thought it would be fascinating to get their take on the Norton F1 now, about 25 years after the machine was launched. So we sent them a few questions, and here are some excerpts from what Dick Powell, co-founder of
seymourpowell
, had to say about the legendary Norton F1:
On how it all started
Seymourpowell officially started in 1984. Both Richard and I were at the Royal College of Art. Our first motorcycle client was Yamaha, for whom we did many projects during the '80s and early-'90s, including building full-size working prototypes of concept bikes. We also worked for BMW, and later created the world's first hydrogen-fuelled motorcycle called ENV.
On their love for motorcycles
I have had a full license since I was 16 years old and have been riding bikes ever since. I have three bikes - a Honda RC30, a Yamaha R1 and a KTM Adventure. Richard too has been a biker all his life!
Read more »