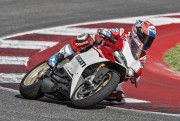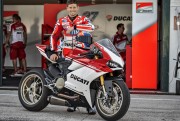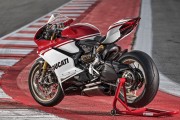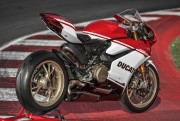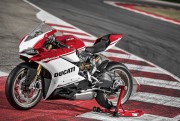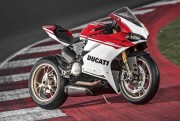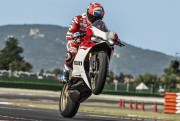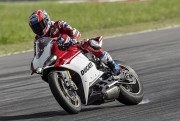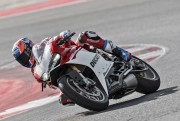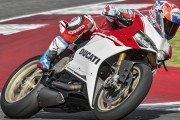 Ducati are celebrating their 90th Anniversary with the release of the limited edition 205bhp 1299 Panigale S Anniversario, just 500 units of which will be built for worldwide markets. Casey Stoner will probably get one. We'll still only be looking at these pictures
To mark their 90th anniversary,
Ducati
have unveiled the special edition 1299 Panigale S Anniversario, which gets a new paintjob, EVO traction control and wheelie control and a special track kit. Only 500 units of this bike, which was unveiled yesterday at the 'Marco Simoncelli' Misano World Circuit, will be produced. With a massive 205 horsepower from its 1285cc 'Superquadro' L-twin, the 1299 Anniversario should be quite the rocketship that you'd expect it to be.
Changes made to the 1299 Panigale S Anniversario, compared to the regular
1299 Panigale
, include a lighter lithium battery and carbonfibre heel-guards, rear mudguard and shock absorber cover, which together reduce weight by 2.5kg. Also, steering head inserts on the Anniversario shift the front wheel forward by 5mm, providing the same chassis geometry as the
Panigale R
. Electronics have been further refined and updated, with the Anniversario getting 'EVO' traction control and wheelie control systems, along with Bosch cornering-ABS and Ducati's DQS quick-shifter for clutchless upshifts and downshifts. According to Ducati, the new EVO traction control system will allow expert riders to steer with the rear wheel, using the power to spin the rear wheel and 'drift' the bike into corners. MotoGP-type stuff for the street, as long as the rider has sufficient talent...
In the suspension department, the Panigale Anniversario gets Ducati's DES electronic suspension with Öhlins Smart EC, which constantly monitors multiple parameters and uses stepper motors to dynamically adjust set-up, hence improving cornering grip, stability, braking performance, turn-in, handling and ride comfort. Race, sport and wet riding modes further optimise and fine-tuen performance, while a TFT instrument panel serves up all system information in an easy-to-read display.
Read more »